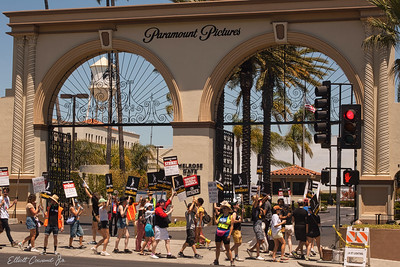 Summer blockbusters like Barbie and Oppenheimer took Hollywood by storm, but so did the 148-day WGA strike. After a longstanding union strike that put Hollywood on pause with major productions like Stranger Things and "Jimmy Kimmel Live" shutting down, studios are finalizing deals with writers that would conclude one of the industry's longest strikes to date. 
The Writers Guild of America went on strike in May when contracts with film and television studios expired. The Alliance of Motion Picture and Television Producers — an association that includes big industry players like Warner Bros. and Netflix — failed to renew mutually-acceptable contracts with the WGA, causing an upsurge in calls for fair wages, streaming residuals, and protections against artificial intelligence. 
When the SAG-AFTRA joined in July, the strike gained further momentum as walkouts strengthened by the number. Actors like Florence Pugh and Adam Sandler hit the picket lines alongside screenwriters, forming a double strike against major Hollywood studios that suspended production all summer. Both groups share a firm opposition against changes like diminished residual payments which would complicate the lives of writers and actors, many of whom live paycheck to paycheck. Additionally, the rapid rise of A.I. in the past year has raised concerns about its raid on industries, provoking strikers to advocate for established guidelines for safeguarding jobs.
This past summer, viewers may not have noticed a drastic change in their streaming activities as they continued to enjoy new TV content like The Summer I Turned Pretty. Since many productions banked a great supply of entertainment from prior months or even years, the true gravity of the strikes has not been felt by the average viewer. 
Nevertheless, Hollywood entered its dark days. The rollback of production has run entertainment dry, and the strikes have inflicted a hemorrhaging of tens of thousands of industry jobs. 
However, final deals have been in the works to close the contract negotiations, led by the executives of Disney, Warner Bros. Discovery, Netflix, and NBCUniversal. A week of bargaining in late September established details for a new tentative contract, covering fresh ground like A.I. provisions. Responding to pressures from the guilds, studios are working to meet demands of worker's benefits and compensation. The new contract must still be ratified by the union's 11,000 active members.
Looking forward, it's expected that productions will gradually return and recover from the summer of strikes, meaning that fall TV may experience further delay before reaching viewers' screens. Viewers can anticipate new reality shows like The Golden Bachelor releasing soon, while new seasons of Abbot Elementary and Grey's Anatomy hold back from networks.