Sage Hill Mulls Historic Step to Launch Middle School
The Board of Trustees is slated to consider a fundraising campaign in June.
In a potentially landmark move, Sage Hill School may add a middle school on its existing campus if school leaders agree to fundraise $25 million for construction of a new building serving seventh and eighth graders.
The concept for new classrooms, a cafe and a second gym is still in its early stages, school administrators said. The Board of Trustees must first approve the fundraising campaign at its June meeting.
Head of School Patricia Merz, Assistant Head of School for Academics Dr. Matthew Balossi and the Board of Trustees are spearheading the historic proposal that would see the school's maximum enrollment cap increase from 600 to 750 students.
"Sage Hill has already grown tremendously in the last 20 plus years. A potential next step for Sage Hill is to consider providing the excellent Sage Hill experience to a younger population," Ms. Merz said.
While the construction plans have yet to be finalized and confirmation of a possible middle school's future is yet to be announced, planning documents show a roughly 38,000-square-foot building that would house eight new classrooms for seventh and eighth graders, an 824-seat gymnasium, an outdoor amphitheater and a second school café.
This proposal is coming to life as school officials work alongside capital campaign consultant, Grenzebach Glier and Associates, on a feasibility study. The creation of a middle school and gym is being carefully considered before any construction begins or curriculum details are conjured up. Sage Hill leaders are seeking donors to fund the entire project; tuition dollars won't be spun off for construction, school officials said. 
"With [creating a middle school], we have the opportunity to continue to grow and change the lives of even more students for generations to come," said Dr. Balossi when asked about the motivation behind this new project. Additionally, as financial assistance is a founding vision and constant goal for Sage Hill, the school "could move from 12% to 20% of Sage Hill students receiving financial assistance in four years," Dr. Balossi said. 
The possible middle school and second gym were designed within a single building, which would be built on the practice field between the Lisa Argyros and Family Science Center and Hague Field. The proposed middle school would be physically separated from the high school classes and have its own town square, classrooms and cafeteria, while paralleling Sage Hill's architecture and style.
"Part of the middle school building would include a second gym. This space would be utilized by students of all grade levels," Merz said.
Junior Sara Alizadeh, a member of the Sage Hill girls' varsity basketball team, expressed excitement over this plausible construction. "The addition of a second gym will increase the amount of times all teams receive in the gyms. It [will] allow more practice time and space for the teams to improve," Sara said.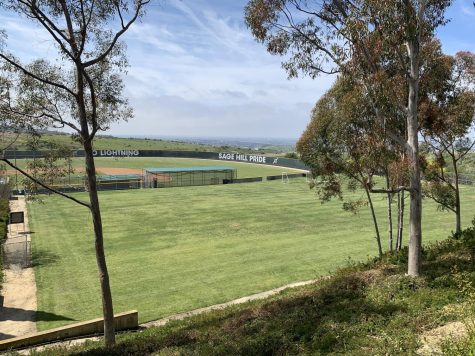 While some current students may be concerned about the logistics of parking and traffic, administrators have found a plausible way to ensure a smooth transition. There would be staggered start and end times of the school day to alleviate congestion in the parking lot and drop-off lane and discourage any disruption to middle or high school classes.
Even though the possible middle school is still a few years away from construction, Dr. Balossi said the middle and high schools "would be two completely separate programs. The high school experience that we already know and love will not change. It is important [to] maintain and protect small class sizes and the close-knit relationships between teachers and students at the high school level."
If and when constructed, Sage Hill plans to enroll about 70 students in both seventh and eighth grades, Merz said. Sage Hill officials would like to primarily attract students from over 250 Orange County public elementary schools that end after sixth grade. As Sage Hill has a partnership and understanding with private feeder schools including The Pegasus School, St. Mary's School and Harbor Day School, middle schoolers at those institutions would be offered "deferred enrollment" and "be able to finish 7th-8th grade at their feeder school knowing in advance that they [have] secured a spot for ninth grade at Sage Hill School," Dr. Balossi said. Because of deferred enrollment, "there would be less spots to fill in 9th grade" with students mostly coming from the proposed middle school, Dr. Balossi said.
Senior Andy Du expressed concern about the impact of having fewer open spots for the incoming freshman class and whether that could make admission to the high school more challenging. Some say it may also take away from Sage's unique asset in bringing students of various backgrounds together into one high school. 
"[Sage Hill] may be less diverse since most of the incoming 9th grade class would come from Sage," Andy said. "[The middle school] would make entering 9th grade more competitive."
Junior Riley Robinson expressed concern for the prospective location, as well as shift in priorities that could ensue with the possible construction of a middle school. "The space that the middle school would occupy is not that large," Riley said. "We could use that space for more resources for the high school students."
She highlighted the benefits in Sage's signature small class sizes and personal attention from teachers, fearing middle school grades could take away from that. School officials emphasized that new faculty members would be hired to teach seventh and eighth grade classes.
Students across all grade levels also agreed that separation between middle and high school students should be effectively implemented. 
"With a middle school, the transition into high school will be a lot more seamless as long as there are some boundaries," freshman Ella Wong said.
Senior Arman Sajjadian agreed there should be separation between the middle and high schools.
Regarding the importance of keeping a similar environment on campus while taking on this project, Dr. Balossi said that "[the Sage Hill administration] would aim for the impact on students to be as minimal as possible."
Current Sage Hill students will graduate before the middle school opens, but have expressed a liking as well as hesitance regarding this change. However, this change  is an exciting one that signifies a new chapter for the Sage Hill community. School administrators have high hopes for expanding the Sage Hill outreach in Orange County, serving a broader demographic to provide more students with a rigorous and diverse education before heading off to college.
As Sage Hill considers this next step, school leaders look forward to "providing the excellent Sage Hill experience to a younger population," Merz said.