Reimagined Club Refashions Environmental Sustainability, One Outfit at a Time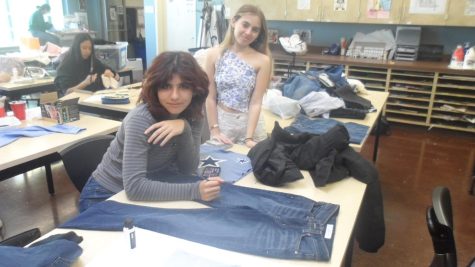 Founded by sophomore Anna Yang last September, the Reimagined Club attempts to decrease unnecessary clothing and fabric waste through upcycling: the process of creatively transforming unused materials to have a new purpose.
In March 2022, Anna first created her own clothing label, Stars Forever, to sell hand-made masks and other clothing items. Seeing potential in her old clothes and developing her sewing skills utilizing, Anna decided to upcycle her clothes to give them a new life—like by adding rhinestones or ribbon. After creating her collection called "Reimagined," Anna and Reimagined vice president Sofia Jellen wanted to expand the outreach of Anna's brand to the Sage Hill community by focusing on fashion sustainability. 
"Fashion is self expression… I hope through my designs and my brand other girls can express themselves," Anna said.
As a club, Reimagined hopes to prevent unnecessary waste by encouraging the donation of clothes would otherwise be thrown out. Club members also host educational seminars, discussion forums and upcycling workshops during X-block to "give clothes a new life," Anna said. "We hope to inform others about the negative environmental impact of fashion waste."
"By supporting anti-fast-fashion organizations, we are changing the lives of the women currently stuck and exploited in fast fashion factories," Anna said. 
"It's understandable for some consumers to feel guilty, Anna said. She encourages her peers to be conscious to decrease "green guilt"—the feeling of not doing everything possible to shop and live sustainably—as no one is able to be perfectly sustainable all the time.
In terms of future aspirations, the club plans to hold a reimagined clothes fashion show at the end of the year full of and attend the Earth Day Summit in Los Angeles. The Earth Day Summit's goal is to begin changing the culture of consumption through carbon sequestration and sustainable agriculture methods. At the summit, Reimagined will be a part of a marketplace where other attendees can shop sustainable products in addition to hearing from keynote speakers.
Anna said she hopes to "continue advocating for self love and self confidence, especially as a young woman," and "upcycle clothes for fashion sustainability and to reimagine lives."