Teacher Spotlight: Get to Know Clayton Hatfield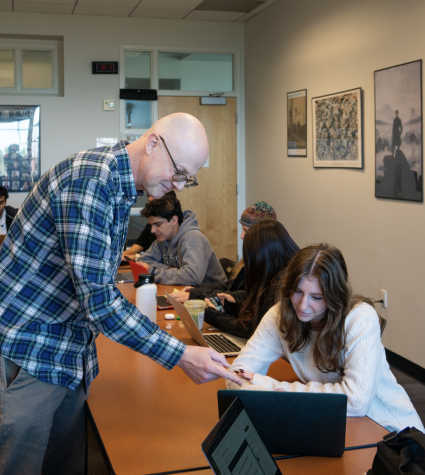 As the English department chair, Clayton Hatfield embarked upon his 11th year teaching at Sage Hill at the beginning of the 2022-23 school year. Currently teaching English III and AP English Literature, Hatfield has also taught English 1, English 2, and Adventure Literature. 
An alumnus of the University of Southern California, Hatfield majored in creative writing with an emphasis in poetry. Hatfield had never "envisioned [himself] in the classroom" while in college, and originally thought he would work in theater productions. After seeing an opening for an English teaching position in a newspaper advertisement, Hatfield began his teaching journey at Desert Christian Academy. He arrived at Sage Hill in 2012 after teaching at Fairmont Preparatory Academy in Anaheim. In addition to teaching, Hatfield has held an array of administrative positions, including: college guidance counselor, academic dean and federal grant writer. However, while working in other areas of education, Hatfield "missed engaging with wonderful students."
Hatfield says he enjoys the Sage Hill community's students who are "willing to dig into poetry and literature and think of it in a very real way." Similarly, Hatfield's favorite aspects of teaching include "helping people find what they enjoy to read and explore" and "finding works that impact him throughout his life." "The Old Man and the Sea" by Ernest Hemingway, a reading requirement for AP Literature students this year, is a book that has particularly impacted Hatfield throughout his life. The Hemingway classic holds complex lessons in a "seemingly simple" novel. 
"It is a book I can return to and find something different about how to approach life every time I read it," Hatfield said. 
In corroboration with the large Shakespeare cut-out in his room (H209), Hatfield says that Shakespeare's works have been the most impactful pieces of literature he has read, as "every facet of human emotion" can be found in them.
Outside of the classroom, Hatfield enjoys playing tennis, which he played in high school and recently re-started. In the future, Hatfield "looks forward to traveling and seeing more of the world" – maybe even to South Korea to see the Korean Pop band Blackpink that he was recently introduced to by an AP Literature student. Hatfield also "encourages everyone to find literature that speaks to them," as "there is so much great writing out there … if something doesn't speak to you, find something that does."