Soccer Battles Through Rainy Winter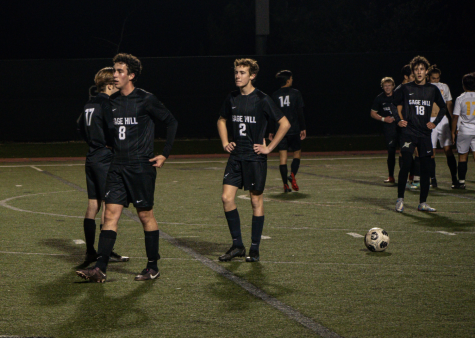 With winter sports well underway, the Girls' and Boys' Soccer teams have been competing in pre-season and conference games with other Orange County high schools since the start of December. Leading up to finals week, junior varsity and varsity played in games every Tuesday and Thursday, with practice every other day after school. While most students went home to rest after the last final exams were given on Dec. 15, the soccer players, like many other winter sport athletes, stayed for practice. The boys even played a match the next day. Luckily, with half of the winter break to recharge, the girls' and boys' teams came back ready to play their first league games.
Head Coach Issac Sierra said league has been challenging and rainy. He added that the team has "had a lot of fun competing," taking the "great opportunity… to build camaraderie and learn how to dig deep" with each game. He also said that "as [they] continue through the season," they strive to "learn and… fight for one another."
The rain has certainly been challenging to outdoor winter sports, especially to the soccer teams who have played many games during the rainstorms in early January. As the rain floods the field, players run in two inches of water, squinting to see through the raindrops and  kick a soaked soccer ball that weighs much more. These teams have taken this added challenge and are persevering. 
Junior Sofia Jacinto, a junior from the Girls' Varsity Team, said that the season "started with exciting games due to this year's competitive league." 
The Boys' Varsity Team season has been "drastically different from last season due to the new coaching staff," senior Max Welford said. He also said the coaches "have brought a new culture," improving the "team morale and performance." Max continued to say that he is "super excited to…grow both as a player and teammate this year." 
Junior Ryan Williams from the Boys' Varsity Team said that the new coaching staff "provide [the team] with hope, drive and a better understanding of the game." 
With many more games to play in February, the girls' and boys' soccer teams, expect they will continue to build team chemistry and grow as individuals and teams during their first year in the Pacific Coast League.