Girls' Basketball Starts Strong at League Opener
This winter sports season kicked off with an exciting win by the Girls' Varsity Basketball team, totaling out to a score of 63 to 49 against Brentwood School. Amalia Holguin, one of three freshmen on the state championship-winning varsity team, helped lead her teammates to victory by scoring a total of 21 points. The team continued to win against teams such as Bishop Montgomery, Ontario Christian, Liberty, and Mount Miguel. During this journey, juniors Annabelle Spotts and Emily Eadie were selected for the Beach All-Tournament Team hosted by Redondo Union High School. Together, they earned a total of 117 points.Later in the season, the team participated in festive activities including Secret Santa and a holiday-themed sleepover before traveling to Phoenix, Arizona for the NIKE Tournament of Champions. At the tournament, they went up against some of the best teams in the country including St. John's High School, Miami Country Day School, and St. Mary's High School. Both the players and coaches agreed that this tournament showed them how to grow when faced with adversity. 
On January 3, Girls' Varsity Basketball team had their Pacific Coast League opener against Irvine High School, where they had a dominating lead of 76 to 45 points. Currently undefeated in league matches, the team has shown not only their talent, but also their teamwork, dedication, and love for the game.
While the girls have had a busy schedule, the season has been filled with fun and excitement. 
"The best part of the season has been traveling with the team, Amalia said.
Freshman Alyssa Cuff agreed, saying she enjoys "when we have team bonding so that we have a great relationship on and off the court." Similarly, Emily noted that she was most looking forward to "team bonding, bus rides and just spending time with everybody."
It will be exciting to see how the Girls' Varsity Basketball team improves this season as they continue to develop their abilities, hone their skills, and form friendships.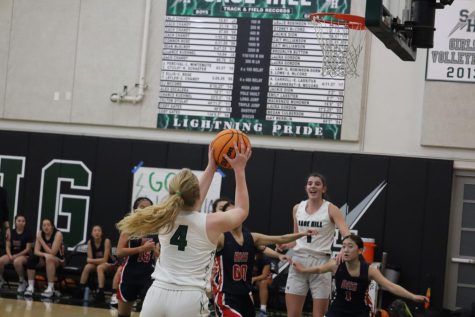 Grace Bori (#4) taking a shot against Beckman. (Jenny Li)