Accepted Students See Our Sage Spirit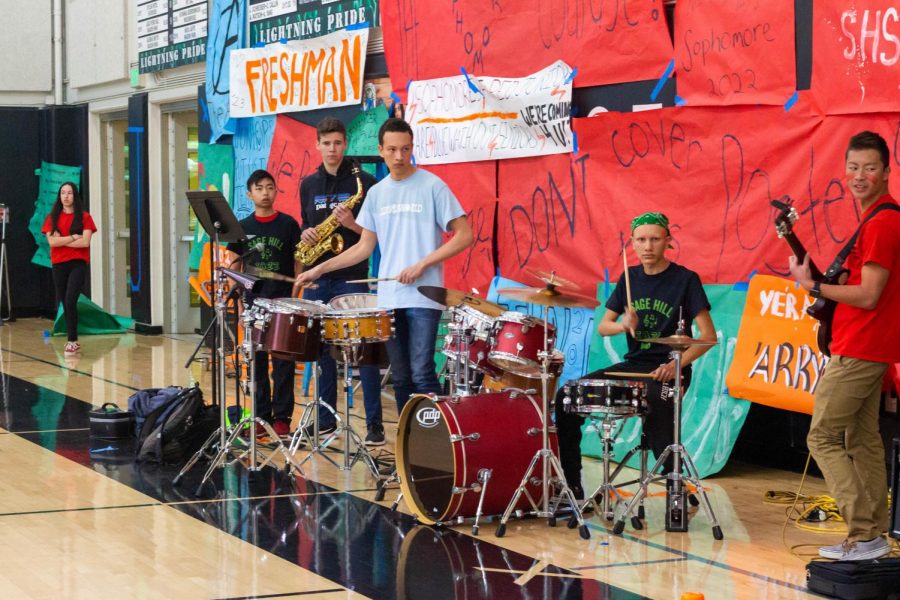 Lauren Chung and Noe Lee
April 7, 2020
The horns blared and confetti launched into the air! Nothing screams spirit like a Sage Hill pep rally. 
On March 11, not only was Pep Rally an event for us Lightning to look forward to but also for the incoming Class of 2024. Sage Hill hosted its annual event of Accepted Students' Day where accepted eighth-graders from various schools are invited to Sage Hill to experience the energy, the classes, and meet their fellow classmates. 
During this exciting Sage Hill event, each grade got to showcase their talent and creativity. Following tradition, skits were performed by every grade level to compete to be the winning grade of Pep Rally. The theme of the performances was "Courage" which was integrated into each of the four skits. 
To begin, the freshmen performed a Harry Potter themed skit which involved dragons, mermaids and dementors! Eventually, the "Gryffindor-Freshmen" house won, because of "Harry Potter's" bravery. 
Next up was the sophomores who had a The Bachelor themed skit. It followed a high school student attempting to win over the Sage Hill mascot, Stryker! By trying out for clubs, teams, and leadership, the student was able to win a rose, which was an acknowledgment of courage, from Stryker. 
Following came the juniors who had a Marvel-themed skit featuring a heroes-versus-villains plot. As the "stresses of junior year" came and pushed the juniors into a corner, they fought back with courage (and a little silly string). Eventually, they were able to have a successful year by learning to cope with stress rather than run from it. 
Finally, the seniors began their last ever pep rally skit! Their skit featured Indiana Jones struggling to adjust to the heavy workload and social stresses of high school. With time and support from his community, Jones was able to make it through his four years at Sage. 
The seniors concluded with a tear-jerking rendition of the song "See You Again" by Charlie Puth. With such amazing skits, the judges, Mr. Campeau and Ms. Merz had a difficult decision to make. In the end, the seniors took first, juniors placed second, and freshmen and sophomores tied for third. 
To start off Accepted Students' Day, the young student guests were assigned a color corresponding to a grade level: orange with freshmen, red with sophomores, blue with juniors, and green with seniors. 
From there, they had the opportunity to be introduced and socialize with current students, get their faces painted, and kick their morning off with a donut from the donut wall. Filing into the gym to experience the liveliness of Pep Rally, the accepted students watched the action take place, observing the entertaining games and creative skits. 
After, the students were able to tour around the school and experience different stations led by Student Ambassadors as well as bond with each other in a series of games such as Musical Chairs. To conclude the day, Flik provided a delicious lunch of cheeseburgers and curly fries. Additionally, the sweet dessert of Sprinkles cupcakes completed the day. 
Welcome, Class of 2024!