Building Up the Robotics Team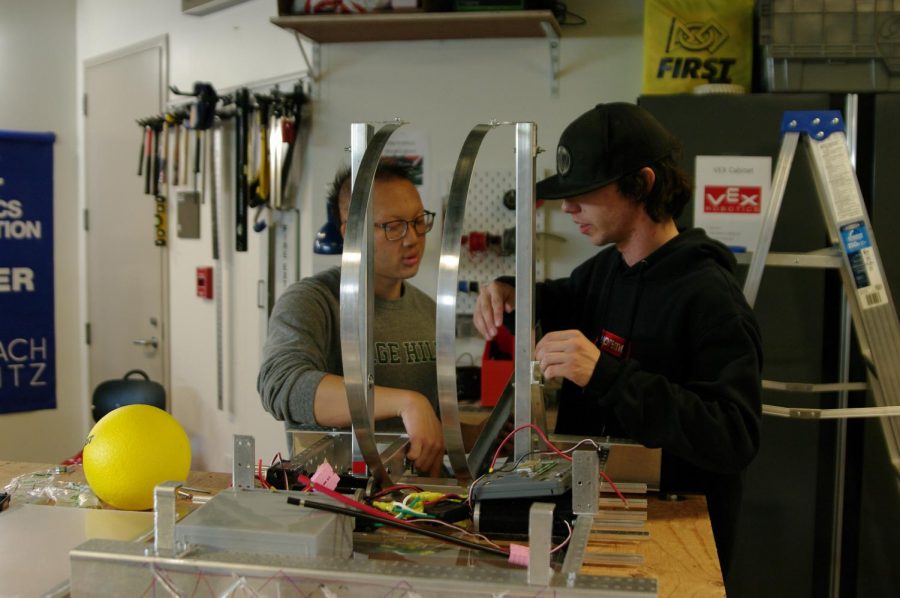 The Robotics team has always been a popular group at Sage, but is back this year better than ever with new members and technologies.
 "We've added more options for making, such as 3D printing, welding, woodworking, and in the future I want to continue to expand to things like leatherworking, fabrics, laser cutting," said Tovi Spero, the club's new faculty advisor and physics teacher. 
Spero has picked up where last year's advisor, Aaron Soffa, left off, and the club has also welcomed many new freshmen members this year. 
"Next year, we'll be combining the robotics, drones and rockets clubs and expanding our offerings in STEAM related fields," said Spero, who has a multitude of new visions and goals for the club.
 Currently, the club is preparing for the competition it enters each year, the First Robotics Competition. FRC is an international high school robotics competition. Each year, teams of high school students, coaches, and mentors work during a six-week period to build game-playing robots that weigh up to 120 pounds.
 "The last two years, we haven't been super competitive in FRC, but this year with all the new structural changes it's looking really positive," said Isaac Choi, junior and co-president of Robotics.
 Members of the team are also provided with all the resources to learn about tools, electronics, programming, and more, and senior members of the club help to educate and prepare new members for the future.
 "Robotics is a great place to learn different facets of engineering, and I've learned a lot from both my peers and Mr. Spero," junior Alan Wang said.
 Individuals can even invent and execute any kind of robotics-related independent projects, which they present to Spero and can be funded by the school.
 "We're also working on reaching out for new membership," Spero said. He welcomes students of any experience level to stop by at club meetings during X blocks in the physics lab.