Time to Take Action in Homeless Crisis
Orange County's Homeless Crisis needs answers—and permanent housing might be the solution.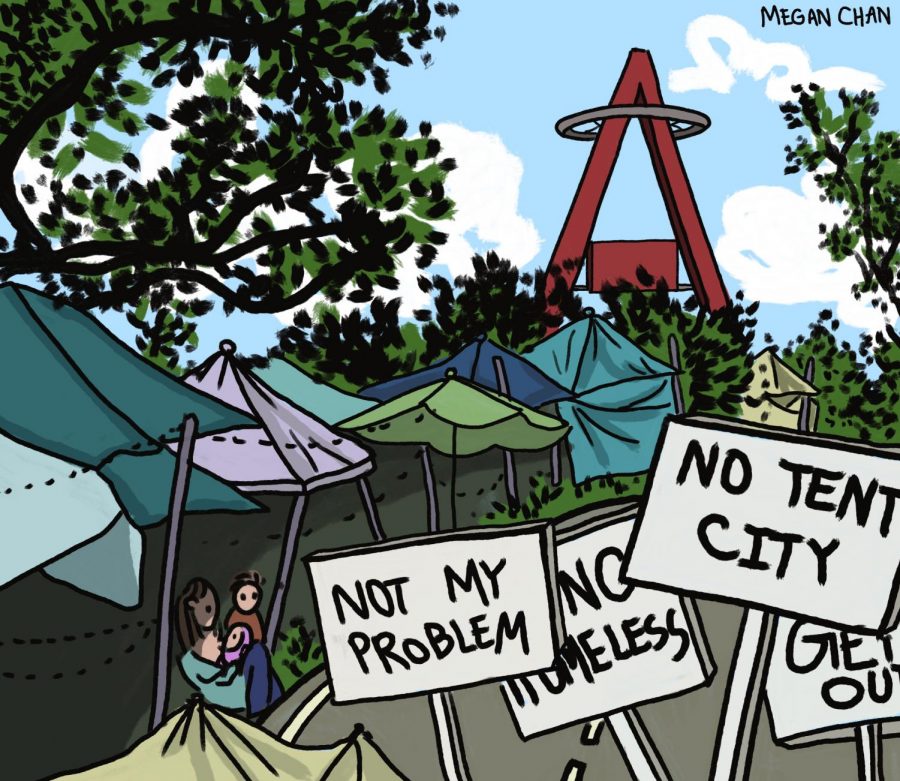 Sasha Roghani
September 9, 2019
In the past few years, homelessness has become more prevalent in Orange County.  According to a 2019 biennial census of homeless individuals, there are 6,860 homeless people in Orange County, with 4,000 living on the streets (LA Times, 4/25/19). This is a sharp increase from the 2017 estimate of 4,800 homeless people in the county. The majority of the homeless population consists of veterans and families with children.
In Orange County specifically, the push to clear encampments is displacing many homeless people into cities where they are vulnerable to stricter anti-camping, trespassing, and loitering laws, resulting in incarceration or other penalties. In September of 2017, 400 people were cleared from under the Angel Stadium (OC Register, 1/22/18). In February 2018, more than 700 people were removed from the Santa Ana River Trail and moved to temporary housing in motels (LA Times, 2/26/18). 
Recently, temporary motel housing vouchers expired, and now the county is struggling to find a permanent solution for the displaced homeless population. The proposed solution by county officials was to build emergency shelters in Irvine, Laguna Beach, and Huntington Beach for homeless people who did not engage in illegal drug use or sexual crimes. 
After this plan was announced, there was a large community backlash from residents who wanted to protect their safe communities and believed that the shelter didn't need to be in their backyard. The most fierce opposition came from the citizens of Irvine, famously known to be one of the top 10 safest cities worldwide. The community mobilized using Facebook pages and WeChat groups and included people who didn't usually get politically involved. The result of their efforts was the plan being overturned. Currently, officials are still trying to find ways to build homeless shelters. (LA Times, 4/1/18)
The protests allude to the larger overarching Orange County culture of trying to pretend the problem doesn't affect us. In fact, one protest organizer said, "That's not fair for them to come dump everyone in Irvine. This is a countywide problem…not just Irvine's problem."  (LA Times, 4/1/18)
I believe that the first step in reducing homelessness in Orange County and providing stability for our residents who need it the most is to recognize and take ownership of our problem. All 34 cities of Orange County must work together to determine potential solutions. In the protests against permanent housing, opponents to the emergency shelters did not offer any solution; instead, the common sentiment was to push the issue out to another city. One resident said, "I really don't know where they can go. But Irvine is beautiful, and we don't want it to get destroyed."  
The most proven solution is to provide permanent housing. Although homelessness often arises from sudden job loss, family breakdown, severe substance abuse or mental health problems, most traditional homelessness policies like Irvine's plan give homeless people permanent accommodation after they are clean and stable, instead of helping them to solve their problems. 
Now, experts believe that the "housing first" policy could provide a better solution by giving people housing and access to counseling and medical attention because it is much easier to overcome a substance abuse disorder or gain employment with a roof over your head. With this approach, the number of homeless individuals has decreased by approximately 40% in Finland (Bloomberg, 7/18/19) and 72% in Utah (Utah's Comprehensive Report on Homelessness, 10/14). Overall, investments in this approach have reduced chronic homelessness by 30% since 2007 (National Alliance to End Homelessness, 2/7/17). 
Additionally, a chronically homeless person costs the taxpayer on average $35,578 per year because of the money spent on police calls, hospital visits and other emergency social services. These costs are reduced by 49.5% with supportive housing policies like "Housing First" because homeless people will ultimately spend less time in jails and hospitals. (National Alliance to End Homelessness, 2/7/17)
Along with permanent housing, Orange County will also need to determine where to locate the shelters and how to cooperate with the community in which it is placed. Unfortunately, at this time, the well-being of other community residents is not incentive enough for Orange County citizens to  support an emergency shelter in their backyard. Thus, there needs to be greater communication between residents and city officials, where residents can be part of the solution process and can cooperate with the building of a shelter.
Ultimately, it is most important that we, as the Sage Hill community and members of the Orange County community, recognize that homelessness is an issue that we need to solve together. It is our moral duty to care for each other in times of great need; for Orange County citizens today, that means we must take action in finding a permanent solution to our homelessness crisis.