NHD Night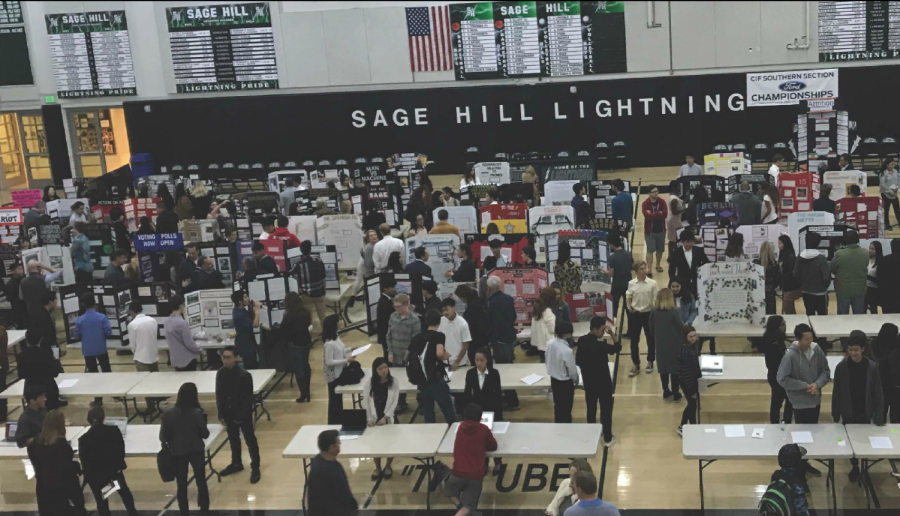 National History Day, or NHD, is a project-based history contest, in which over half a million middle and high school students compete each year. Students choose any historical topic, research it, and then create a documentary, exhibit, paper, performance, or website based on their chosen topic and a theme, which is changed each year. This year, the theme is "Triumph and Tragedy." Next, students present their projects, and they are judged based on quality of presentation, research and analysis, and numerous other factors.
Sage has taken the general ideas of this competition and inserted it into the curriculum for the freshman history class, Patterns of Civilization. NHD night, held this year on Wednesday, February 27, is always quite a show, and hundreds of relatives and friends are given the opportunity to browse through the students' projects and listen to their presentations. The projects account for a major portion of students' grades, but NHD night also gives students the opportunity to show off all their hard work and all of the knowledge they have gained, and it's a memorable experience for everyone.
"I really enjoyed working on my project, and I liked that we were allowed to pick our own topics to learn about," said freshman Nick Neal, who made a poster on the Battle of the Alamo.
In addition, several awards are decided upon by faculty and presented at the end of the night, with recognition for the best projects in each category and for research. Congratulations to this year's award winners:
Exhibits
Nic Eimani – Early PC History
Celine Shafee – Jane's Crown of Thorns
Ari Rednour – One Giant Leap for Mankind (Apollo)
Elise Orozco – Tlatelolco (1968)
Aviela Chang – John Rabe: The Living Buddha of Nanking
Isabel Gomez – From Killing Lives to Saving Them: The Triumphs and Tragedies of Mustard Gas
Lainey Cauffman – The Escape to Canada
Anika Ball – Patient No More: Section 504 Sit-Ins
Zayna Lateef – Gender Roles and Stereotypes in Disney
Websites
Nadia Ansari – The Sykes-Picot Agreement: How one Map Led to a Century of Tragedy and Instability
Grace Zhang – The Burning of the Old Summer Palace: The Conversion of a National Humiliation to Unification
Sabrina Do – The Emu War
Documentaries
Alex Lavaee – Iran: The Economic and Political Legacy of a Revolution
Colin Sueyoshi – Tell Them We are Starving: How the Ukrainian People Triumphed in Preserving the Memory of the Holodomor Tragedy
Papers
David Zhu – Tiberius Gracchus
Saiida Webb – Black and Yellow Power: The Lasting Effect of Civil Rights
Winston Zuo – The Herero and Namaqua Genocide: The Triumph of Colonial Imperialism and Tragedy for the Native Tribes
Research
Austin Pak – Controversies of Christopher Columbus
Max Tu – The Assassination of Franz Ferdinand
Max Luer – The Rise of Soviet Communism and the Attack on the Lower Classes