Opening the Lightning Locker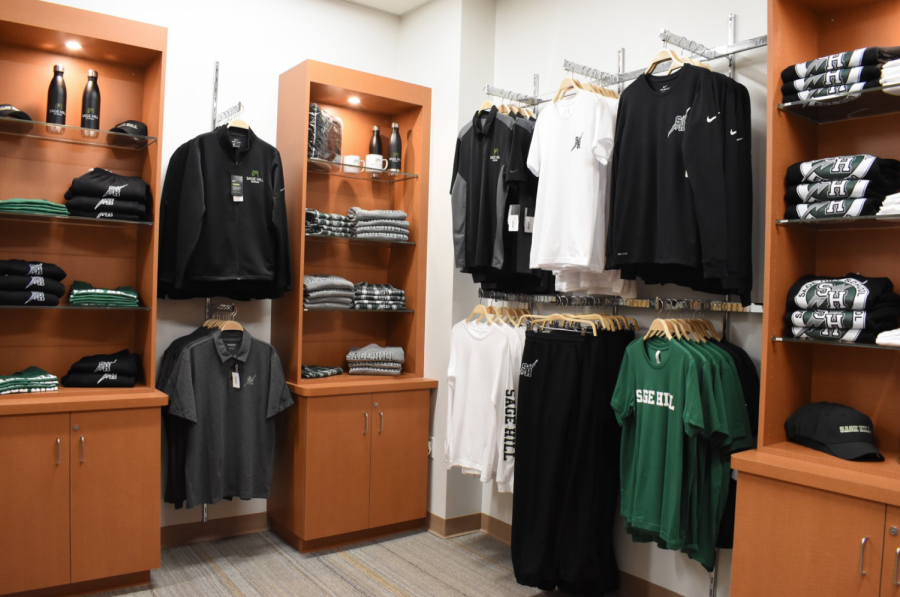 The Lightning Locker, a new student store located in the Lipman Family Lobby of the Ube Gymnasium, is anticipated to open Dec. 11. By giving students easier access to clothing and other spirit items, the store will allow the Sage community to show some school pride on and off of campus.
"This store will sell Sage Hill spirit wear like T-shirts, sweatshirts, and hats as well as other logo merchandise like drinkware, blankets, bags and more," Dean of Student Life Dominic Campeau said.
The idea of the store is meant to be fun and exciting, and to inspire students to show off their school spirit by wearing Sage clothes and using Sage accessories.
Although students have been able to buy these items in the past, the opportunities to do so were previously limited to the online store and select sporting events on campus, such as the Homecoming football game. The decision to begin a store on campus was largely influenced by suggestions to make school spirit wear more accessible, especially for the students not involved in sports and clubs that have their own uniforms and spirit items.
"We are building the Lightning Locker to make it easier and more convenient for students and families to purchase Sage Hill branded merchandise," Head of School Patricia Merz said. "In the past, Sage Hill logo merchandise was only available to purchase online or at select school events. By creating a store, we will have a central location for everyone on campus to buy spirit wear, gifts and other branded items."
While having a store on campus will certainly make buying Sage merchandise more convenient, the planning team recognizes that not everyone will be able to access it. As a result, they plan to provide alternative ways in which students and their families can purchase the new items.
"In addition to the physical store, we will also have a new online store for friends, family, alumni and others who cannot come to campus to purchase their Sage Hill merchandise," Campeau said.
The new online store can be found at www.sagehillschoolstore.com.
In conjunction with the new Sage Hill Spirit Club, which meets at major Sage sports games, the store is part of a school-wide movement to increase both support for Sage's sports teams and overall enthusiasm for the school.
"I think it's so great that they're redoing the store. I think that they have some great ideas and it seems like they are getting a lot of students involved," senior Paige Czepiel said.
The store will also be working with the Spirit Wear Club to ensure that students are involved in decisions about the products that the store chooses to sell. From voting on the name of the store to influencing its merchandise, Sage is making sure to take into account the voices of its community every step of the way.
"The Lightning Locker will sell items that students want to purchase," Merz said.
Chief Financial Officer Jill Livermore is one of the leaders of this project and has provided guidance to all of the members of the community that have decided to get involved. She is excited to be able to get involved with the students and make her mark on campus during her first year working at Sage.
"I'm happy that this project has given me an opportunity to work more closely with Sage Hill students to help them bring their concepts for Sage Hill clothing and gift items to the entire student body," Livermore said.  
Students and their families can look forward to many aspects of the new student store and its efforts to raise morale and school spirit.