Senior Splash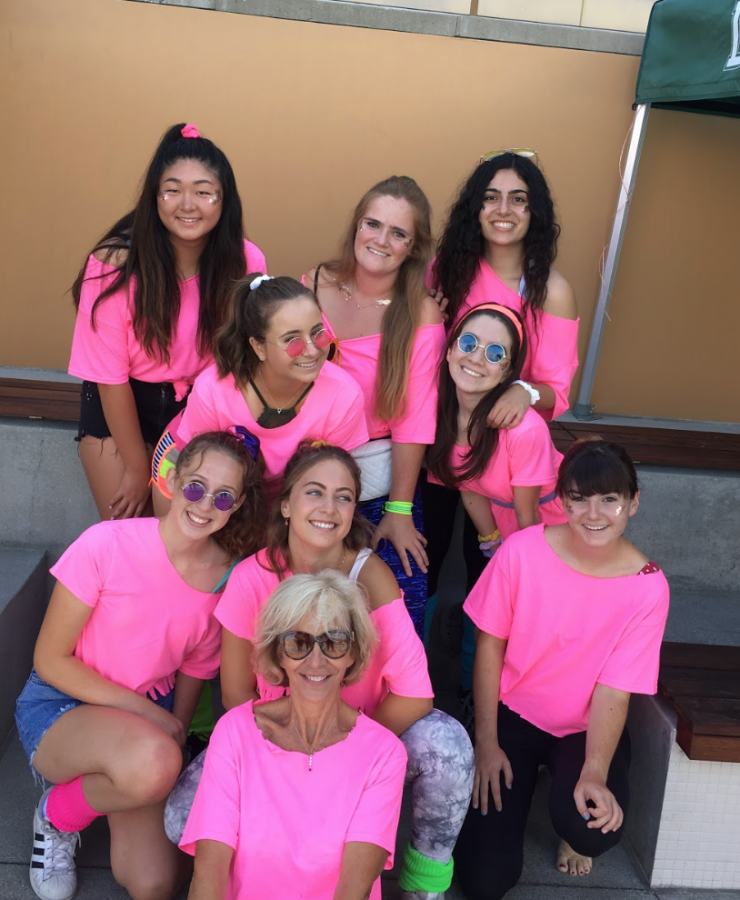 On September 12, the Class of 2019 stormed onto the Sage Hill campus dressed in bright neon pink, yellow and green retro workout gear in order to kick-start the year with Senior Retreat. Once in Town Square, students were greeted with upbeat music blasting from the speakers, an inflated water slide, and a shaved ice truck – the setting was perfect for a fun day of bonding, and the seniors were ready to celebrate the start of their last year at Sage Hill.
The day started with the Fashion Competition, in which the advisory with the best matching retro workout outfits would be recognized. After careful judgement of the outfits, it was the Merz advisory that took home the honor. Then came the event that everybody was anticipating – the advisory boat race. Advisories, showing the spirit of teamwork and collaboration with their matching outfits, gathered all over campus` to transform a box of cardboard into a sturdy boat that will float in the swimming pool.
"For the senior retreat, we had a pool party and we were supposed to make a boat for the advisory boat race," senior Charlene Gao said, depicting the chaotic morning. "We were given about an hour and 30 minutes to create a boat out of cardboard and a roll of duct tape. The race lasted about two minutes, and then we got to enjoy more than two hours of free time, bonding with the class."
Although the boat race was short, the lasting impact it had on the seniors' spirits was apparent. The Dear/Aguirre advisory won with their boat named U.S.S. Michelle, in honor of their ex-advisee Michelle Hung, who left Sage Hill early to attend college this year. As people cheered on their boats, Peyton Webb led the U.S.S. Michelle and her advisory to victory, paddling in the boat across the swimming pool.
"It was really exciting to see our hard work pay off," said senior Halah Biviji, a student of the Dear/Aguirre advisory. "During the busy morning [of boat building] my advisory and I really bonded and I was glad to see the final product do so well in the swimming pool."
At the conclusion of the retreat everybody was fatigued from the exciting day, despite the brief break from their academic workloads. Swimming, sliding down water slides, cheering on their team, and having fun with their advisory, the Class of 2019 finished the day as a unified, spirited class.