Getting a Jump on Junior Year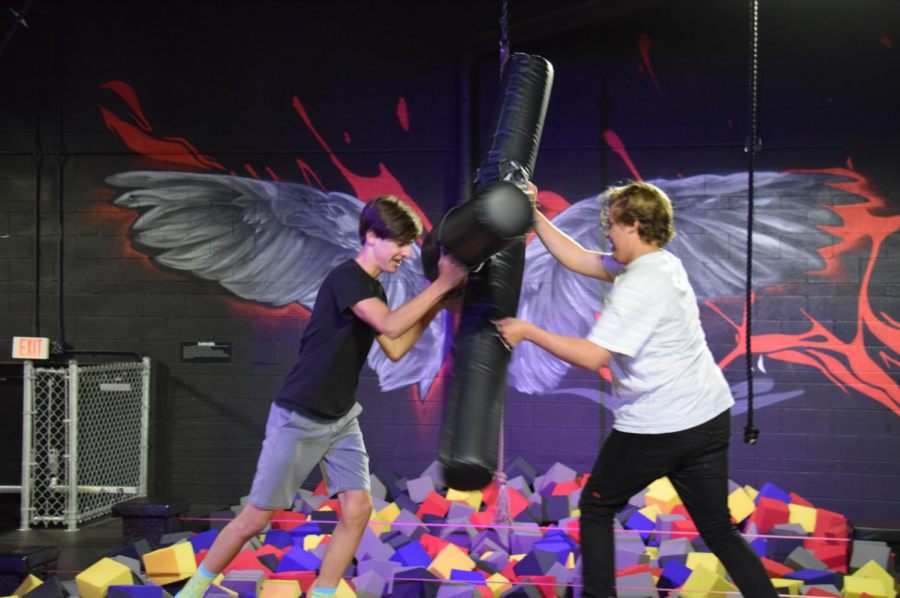 The Junior class gave a collective sigh of relief from the burdens of academic life on September 12th, the day of their retreat. Leaving behind Sage's campus and the stress inside it, the junior class got the opportunity to slow down and really connect with their grade.
Upon entering the facility, one is greeted by loud music and even louder décor. A face mural reminiscent of KISS makeup gazes down on a foam block pit filled with highlighter yellow and cobalt blue cubes. A rock wall's angular red-and-grey edges protrude from the far side of the warehouse. But the main event is the mesh of black floor trampolines covering a third of the room. A mob of students bounces around to test out the surface, soaring up and laughing all the way down.
The trampolines were far from the only attraction Circus Trix offered the grade. Junior Ilya Garbuzov said, "I'm here to play dodgeball." While some students were attracted to a specific one of the many choices presented, others found value in the variety of options presented.
"Here, anyone can do any different [activity] they want, and they can have fun doing it," said Junior Jackie Ni. "Everyone's having fun, [and we are] bonding with emotions."
Grade bonding is especially critical early in the year, when students are still acclimating from a restful summer and getting into the swing of school. It gives students an environmental shift so they can see their classmates beyond school life and showing aspects of themselves that don't surface during a normal school day.
Teachers also felt the change of scenery was beneficial to bringing the grade together.
"Some of the quiet students are actually really outgoing", said Chinese teacher and Junior advisor Amy Fu. "[Retreat provides] an opportunity to see them in a different light."
Above all, retreat is about having a good time with great people. Retreat gave the community a valuable glimpse beyond educational life into something equally as valuable: a strong community and fun within it. As Junior Kianna Dominick perfectly says, "I wish we could do this every single day all year long!"