Don't Feed the Plants!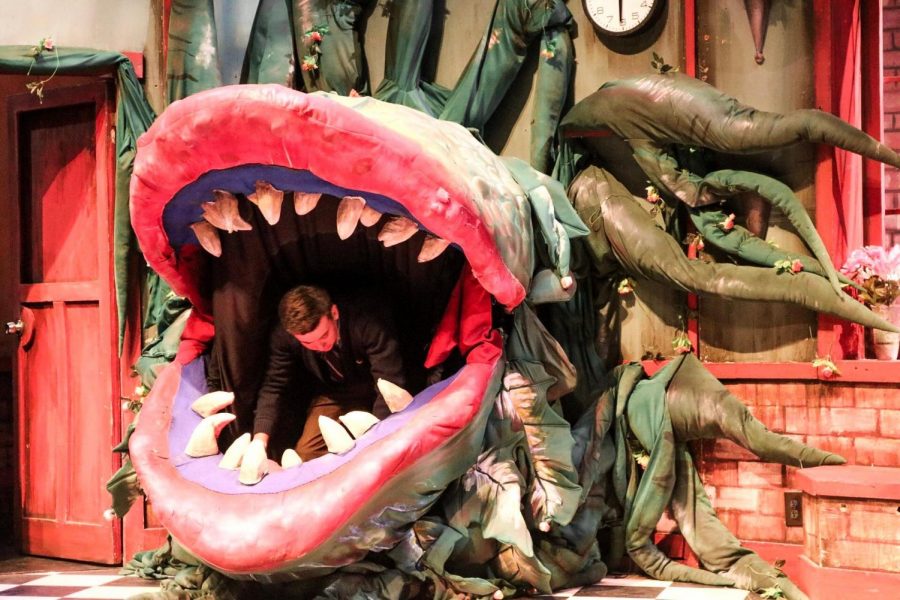 After lots of buzz and months of rehearsal, Sage Hill's fall musical, Little Shop of Horrors, was finally displayed from Nov. 2-4, filling the Black Box with laughter and suspense. The main takeaway? Don't feed the plants!
This hilarious yet twisted tale depicts the life of Seymour Krelborn (played by senior, Dylan Dickerson) as he encounters a "strange and interesting plant" that develops a hazardous appetite for human blood. Seymour is faced with terrifying temptations; he ends up feeding his boss (played by senior, Nico Collins) and a "sadistic" dentist (played by sophomore, Nick Fish) to Audrey Two (the plant) in efforts to win the heart of his colleague, Audrey (played by senior, Maddie Green).
The brilliant set enhanced this eerie scene, along with the dramatic lighting and creative costumes. Furthermore, the talented band complemented the strong vocals during the live performances.
"Audrey Two" was also a big hit. On Nov. 11, the audience participated in a special question and answer session with the cast, and the mysteries of the puppet were revealed: Jeffrey Kieviet (puppeteer) controlled the plant's movements from inside while Aiden Arvizu (sophomore) was "the voice" behind the curtain.
"[Kieviet] matched his movements with my voice…recorded my singing…and then practiced with how I did it," Arvizu said.
The musical was truly a team effort. From beginning to end, the cast and crew worked seamlessly together to pull off an extraordinary show.
Nadia Akbari (Ronnett) said she loved the group atmosphere throughout the rehearsal process: "We laugh[ed] so much, cheer[ed] each other on…and always had so much fun," Akbari (junior) said.
The actors' enthusiasm spilled out onto the stage, making it an equally enjoyable experience for the audience.
"The musical was so much fun to watch. You could tell everyone on stage wanted to be there…and showed it with a smile." Sarah Fischer (freshman) said.
It was a perfect note to finish on for Sage seniors. Senior, Dylan Dickerson, said it was a "bittersweet" closing. Although it marked his last musical at Sage, he is excited to come back to see the underclassmen in future performances.
"What a way to end my Sage musical experience," Dickerson said.
Overall, Little Shop of Horrors was outstanding. Stay tuned for the next theater production at Sage Hill, 12 Angry Jurors, directed by Mary Robinson.