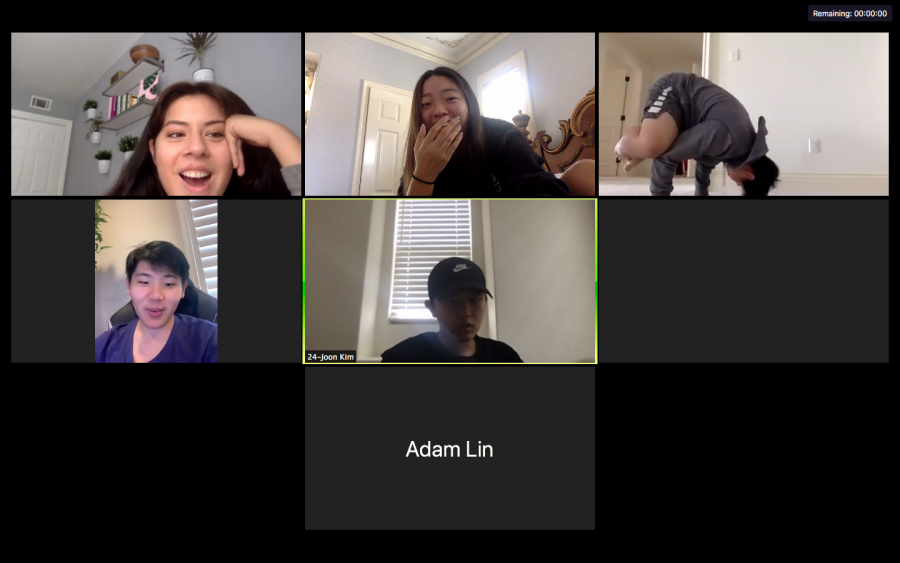 Due to the COVID-19 pandemic, the 2020-2021 school year at Sage Hill kicked off differently than it has in the past. Instead of meeting in person, students stayed virtual for the first month.  Even though school was virtual, Sage still held grade level retreats. 
For the junior retreat, "we got to hang out with our advisories and connect with fellow classmates while working together to win a competition," junior Reagan Smith said.
The competition was made possible by Outback Team Building and Training, which consisted of different activities, such as trivia, funny pictures, and short videos. The activities varied in the amount of points, and the team with the most points wins. Juniors Julia Kwon, Joon Kim, Nicole Jacinto, Peter Huang, Bobby Kan, and Adam Lin were part of that winning team.
"We divided and conquered, so while some people were individually solving trivia questions, other team members were working on the photo/video challenges together. We also tried to complete the challenges worth more points before those worth less points," Kwon said.
The winning team didn't just get a pat on the back for their efforts either.
"We each got a $10 Amazon gift card," Kwon said.
Even though the retreat was virtual instead of the usual field trips, it still was able to bring about a sense of normalcy again. 
"I think [retreat] helped us feel connected and meet people we wouldn't normally talk to, especially because of the divide between students online and in person," Smith said.
Thanks to technology, people of the Sage Hill were able to connect together. It wasn't in person, yes, but distance does not limit the bonding and laughter between people. 
"I learned that I really did not know a lot about the Sage community in general. Through the games, I realized that the Sage community is really diverse in terms of what people do outside of school and where they [come] from," junior Patrick Nguyen said.
In times of hardship, adaptation is key. Because of a virus, people can't meet in person anymore, but they can meet virtually. COVID-19 has shifted the norm, but people just have to move around that challenge and make things work out. Just like with the retreats, they have been made possible through Zoom and a bit of ingenuity. It is safe to say that, in the weirdest year ever, the retreat was a success.
"This year's retreat was very interactive! I understand that it was hard to pull off a retreat for this year because of the virtual format but surprisingly, Sage was able to pull off a really organized plan. Because of this, my team and I were able to stay dedicated to the game and win in 3rd place," Nguyen said.