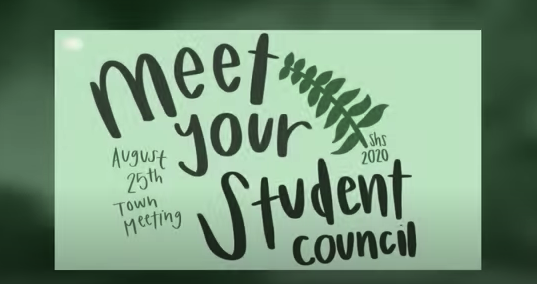 The pandemic has led to Sage having to adapt to the distance learning modality while holding onto its traditions simultaneously. With the arrival of an unprecedented school year, a spirited student council is needed more than ever. 
This year's student council comprises of student body president senior Jacqueline McNeill, vice president senior Ava Cooper, co-activities coordinator senior Miriam Bridger and junior Jasmine Chen, secretary-treasurer junior Sanjana Khurana, spirit commissioner senior Ben Romeo, and technology commissioner junior Anh-Ton Nguyen. 
Co-chairs seniors Katie Mayhew and Christian Moyano, juniors Jillian Raymer and Jushen Dhillon, and sophomores Izzy De Leon and Shaan Patel will represent their respective grades at school-wide events, such as the semi-annual pep rallies and town meetings. The election process for freshman co-chairs is currently underway. 
As students have observed, Sage traditions have been noticeably different this month. The weekly town meetings have been remarkably shorter, dropping from the usual half an hour average to fewer than six minutes. Club Fair has also changed, as it was composed of multiple Zoom links to Sage clubs instead of the traditional booth setup in Town Square. 
Keeping the student body engaged during normal circumstances is a challenge in itself. Having to do it virtually over a Zoom call or a YouTube video is an even more daunting task.
"Sadly, most of my ideas have been put on hold or are no longer achievable in the distanced learning modality we are operating in for the foreseeable future. We have been working instead on adapting and introducing new ideas that can take place during distanced learning," said President Jacqueline McNeill. 
"We all have to adapt and be creative when it comes to converting typical events and activities to something everyone can experience in the safety of their homes," said co-activities coordinator Jasmine Chen. 
Although events such as town meetings and Club Fair can be hosted virtually, some events are impossible to pursue while in distance learning modality. Grade-level retreats were the same for every grade instead of the unique bonding activity for each class, and the traditional Homecoming game will not be taking place anytime in the near future. 
However, with these challenges also comes opportunity for the creation of new Sage traditions and activities. 
"We've been toying with the idea of a drive-in movie night where we can maintain a social distance, and we've been planning a virtual homecoming event. We don't want to make anything mandatory and take the fun out of student life events, so we are really looking into options that a lot of students would enjoy," McNeill said. 
Student Council has also been looking ahead to plan more memorable events during the second semester of the school year.
"Miriam and I have been looking for venues that might work for Winter Formal. Nothing is set in stone, but we wanted to find somewhere nice and close by because there were a couple of complaints about last year's venue. Hopefully things go as planned and we can move forward with the Winter Formal preparations," Chen said. 
No matter how the rest of the school year turns out, Student Council is determined to make this unprecedented year a memorable one for the Sage student body.
"Distanced learning for a long period of time is an unprecedented circumstance, and we are really doing our best to foster a sense of Sage community even if we are at home." McNeill said. "We don't know what the rest of the school year is going to look like, but we are still trying to plan events that the students will enjoy."