Opinions on the Library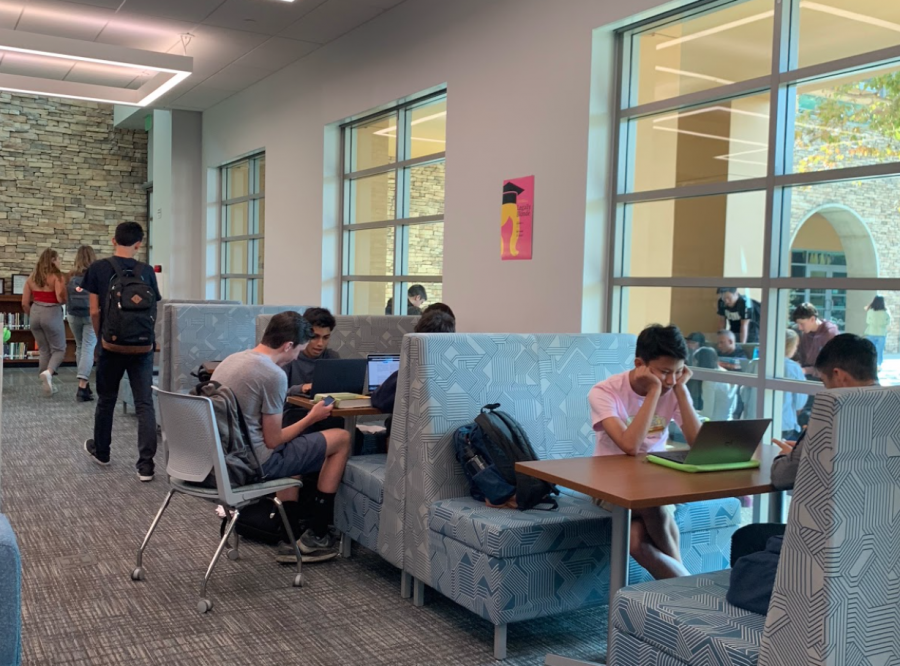 Hana Mariappa
October 28, 2018
While students were finishing up their summer vacations, many workers were busy getting ready for the opening of the renovated Johnson Family Library. As Mr. McNeil kicked off the upcoming school year on August 20th, a ribbon cutting ceremony was held to commemorate the renovated library. Students have been using the new addition as an area to work collaboratively and independently.
"The library makes really easy to collaborate on group projects," said freshman Sabrina Do. "It provides a great environment for studying and helps me improve my study habits."
The collaboration spaces helped bring many of the students closer to their peers. The new furniture and the updated floor plan help the students' work ethics and participation toward projects.
"The new desks and chairs makes the library feel more modern and sleek," sophomore Kevin Yu said. "The cool designs gives me motivation to work harder."
Envisioned workspaces add a contemporary feel instead of a traditional library found at most schools. The library is accustomed to our generation by serving as a computer friendly space. New areas are building a foundation for the students to become more diligent and hard working.
"The atmosphere of the new library helps my friends and I work together," junior Alex Tse said. "The new study spaces provides a nice environment for when we work."
With the new renovations, the books will not be presented in a traditional fashion of stacks; however, a more open space where students will be able to work alongside books was created. Not only were students enjoying the new space, but the librarians also had ideas to contribute.  
"The library feels more open and stands as a space where collaboration happens," said archivist and library assistant Sally Bedoya. "I can clearly see that the students are enjoying the new environment more as well."
The upgraded study areas and huddle rooms provides many opportunities to help the student body benefit by creating memories with their peers. Over the coming years, the Johnson Family Library will be a key asset to all of Sage Hill students.