The Town Meeting Tradition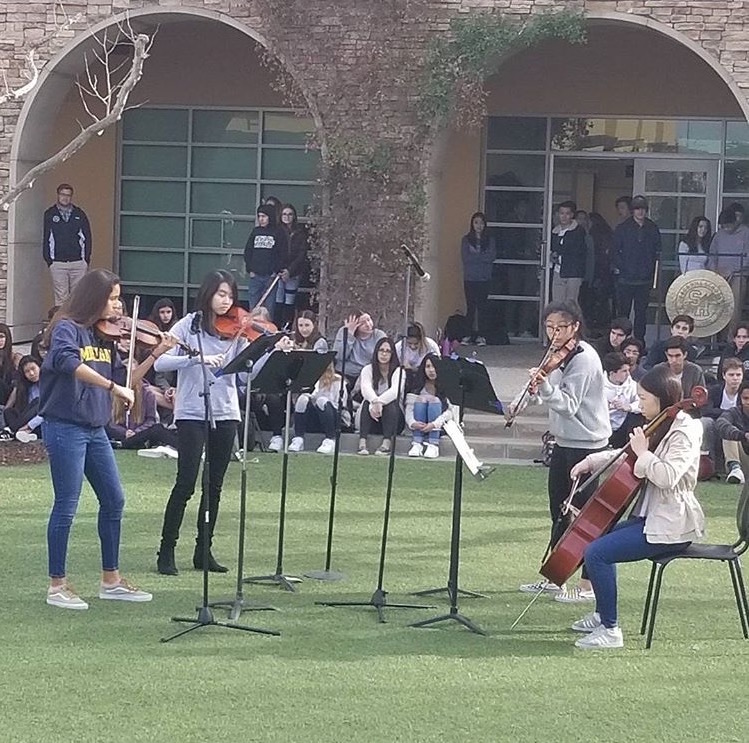 At Sage Hill School, there is an extreme focus on community that makes the environment quite unique. Town Meeting is a Sage Hill tradition founded to enhance and unify the community at large with special performances and relevant announcements.
Shortly after Sage Hill was founded in 2000, Town Meeting quickly became a beloved event that characterizes student life on campus. Every Monday, after the first class of the day, the entire student body and faculty gathers in Wilkins Town Square and commences town meeting with the ringing of the ceremonial gong.
"I like how town meeting allows for everyone to share information and their talents in an outdoor area," freshman Ava Cooper said.
This school year in particular, town meeting has not been short of talent. Memorable performances include junior Haley Rovner, who performs with Le Petit Cirque as a hoola hoop dancer, senior Mackenna Strohmeier singing acapella to Alicia Keys' "If I Ain't Got You," and freshman Crash Collier covering Luis Fonsi and Daddy Yankee's "Despacito" on the violin.
"It's always amazing to perform for all of my friends and fellow students at Town Meeting.  I love performing, and it's always so much more fun when you know some faces in the audience," Rovner said.
In addition to performances, the Sage Hill Student Council always makes an effort to hold class competitions in the form of fun and amusing games.
"Through planning exciting games, performances, and the order of announcements, the job has taught me how to work with all types of people and the necessity of staying organized to make sure everything runs smoothly," senior vice-president Ashton Carroll said.
Town meeting is a cherished Sage Hill tradition that not only enhances student experience, but also captivates the Sage community in a way that no other event can. Ultimately, town meeting characterizes the culture at Sage and ensures that every student's voice and talents have the capability of being heard.