Junior Classical League: From SCRAM to State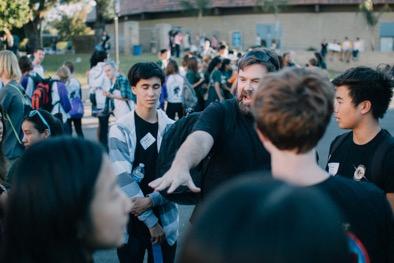 The Latin program provides an awesome learning experience to anyone that takes it. Part of the reason why the program may be so exciting may be because of the Latin program's Junior Classical League club (JCL). JCL is common through most high schools in the nation who have a Latin program in their curriculum.
Each JCL club from various schools all gather once in a few months to celebrate the ancient cultures of Rome and to showcase their school spirit in a convention called Southern California Amici (which means "friends" in Latin) Madness, or SCRAM. Sage's JCL club had their first SCRAM convention of the year on November 21st, in University High School.
"As the first event of the year for Southern California JCL, SCRAM is widely known as mini-state convention," the president of the JCL club, Sarah Yang, said while talking about the first SCRAM convention of the year.
"It's almost like orientation day for high school, but for the Junior Classical League," Yang continued. You get a taste of everything to prepare you for what's to come. You take practice tests, see spirit displays from enthusiastic chapters, and participate in a wide range of available activities. SCRAM kindles enthusiasm and really pulls you into JCL," she said.
For Yang, SCRAM is something that is fun and exciting for the whole JCL crew at Sage.
"SCRAM honestly has something for everyone. It would be hard to get bored at SCRAM, with events ranging from competitive certamen (jeopardy) to cookie decorating to public speaking. My favorite activities include Rent-a-Roman, Roman speed-dating, basketball, and dodgeball. Those are always bound to get you to meet new people while having fun."
And it did seem like fun to all members of JCL, as even the newest members of the club expressed their excitement of the club.
"I had a great experience at SCRAM," said Eamon Nikafs, a freshman who just joined the club. "SCRAM provides the chance to learn about classical culture while still having a lot of fun doing so. I had fun playing Certamen, a Jeopardy-inspired game where people compete about all things relating to Latin."
The JCL club at Sage is also planning to participate in the State Convention, which is huge compared to a normal SCRAM convention in terms of size and the number of schools that participate. State Convention is being held at Woodbridge High School from Mar. 18-19.